WAEDC RTTY by DF7ZS
November 16, 2015
WAEDC RTTY by DF7ZS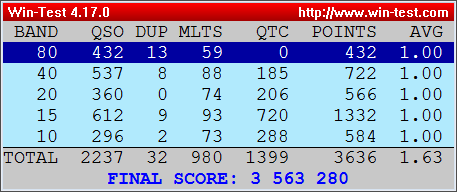 Note from the OP DF7ZS:
Thanks to Philippe LX2A who let me use his Superstation LX7I in Eschdorf again!
36 hours SO2R in RTTY is not easy, or maybe I am just getting old!
Station:
IC-7850 LE
IC-7700
IC-756 PROIII (Backup – not used)
2x Legal Limit PA
Antennas:
80m: Dipole, 4SQ, 2 Element Ultra Beam*
40m: 3 Element full size Beam (US/rotatable), 2 El. YT3M Beam (JA), Dipole
20m: 5 over 5 Elements Stack (US), 5 Element (JA), 4 Element Rotatable
15m: 6 over 6 Elements Stack (US), 6 Element (JA), 4 Element Rotatable
10m: 6 over 6 over 6 Elements (US), 5 over 5 over 5 (JA), 6 Element (SA)
Mult: Triplexer fed 5 Band 16 Element Beam
All switched beautifully with Station Master Deluxe!!!
Thanks for all the callers and sorry for the one that did not really print on my screens.
Comercial break:
Hey folks … this is THE WAEDC!!!!! I heard: "SORRY NO QTC AT THIS TIME" way to often! It is not complicated but it is the bread and butter of this very special contest! I appreciate you call in for a QSO = 1 Point! You bring on 10 aditional QTCs ….. I love 10 times as much.
Thanks to all the QTC senders and receivers! KM4JA rebooted his PC 8 minutes before the end and did sent his 10 QTCs! That was really cool!!! End of comercial break!
73 and see you agan in CQ WPX RTTY!
Helmut DF7ZS
www.df7zs.de
www.lx7i.com