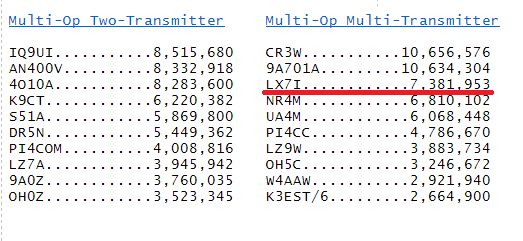 LX7I claims #3 World @ CQ WW RTTY 2016
Oktober 6, 2016
Wow, now you can really tell that we are on the downslide of the sun cycle. This year we finished CQWW RTTY with a claimed score two million points below last year's claim! Especially here in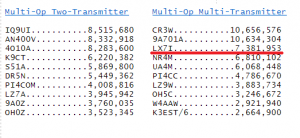 the north we were hurt by almost zero 10m openings into state side on both days. Ten meter seemed totally wiped out for hours during bright sunshine.
Apart from the score it was a fine weekend. We had a great crew with 3 new operators @ LX7I and a lot of fun all the time. As always, Philippe LX2A prepared a very nice station for us and we had very little setup work on Friday. Due to station rebuilding work there was some interference between the stations that made the use of certain band combinations impossible, but it will be addressed shortly.
I cannot agree more with some of the comments on the CQ reflector about the efficiency of many many well cut macros. The number of useless code being transmitted seems to be decreasing every year.
Thanks to the station owner Philippe for putting such a fine station together and to the entire team for a flawless weekend. Congratulations to 4O10A and IQ9UI who outperformed us this time.
I wish live scoring would be mandatory for the TOP 10 in each category, it adds so much FUN to the game!
Thanks to everyone who called us and sorry for the ones we could not decipher.
Radios: 2x IC-7700, 1x IC-7850 and 1x FTDX-5000 (backup never used)
Antennas: visit
Operators: LX2A, DL8LAS, DJ6GI, DL9OLI, DK5ON, DL6ZBN, DL8LR and DF7ZS.
73 and see you in WAEDC RTTY!
Helmut DF7ZS